RCCG Sunday School Student's Manual 22nd May 2022 – Lesson 38 – King Solomon.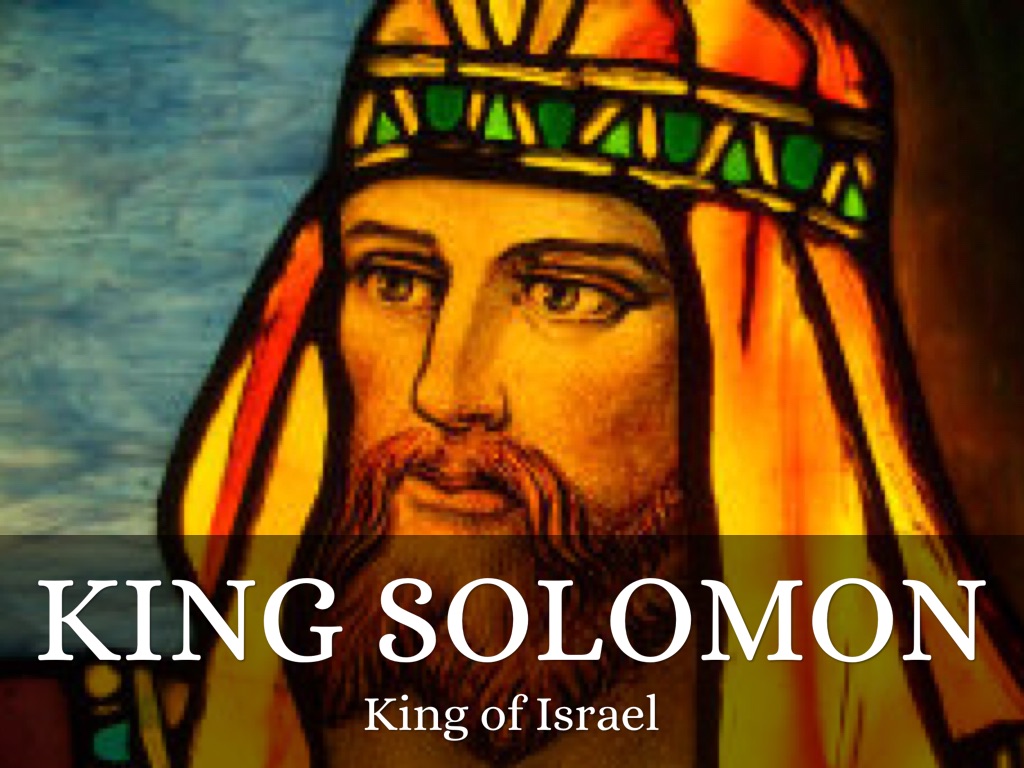 TOPIC: King Solomon.
MEMORY VERSE: 1 Kings 4:29
And God gave Solomon wisdom and understanding exceeding much, and largeness of heart, even as the sand that is on the sea shore.
OPENING PRAYER: Almighty Father, please grant Your children wisdom, exceeding understanding and largeness of heart to do what is pleasing to You at all places and times in the name of Jesus.
BIBLE PASSAGE: 2 Chronicles 9:22-28 (KJV) (RCCG Sunday School Student Manual 22 May 2022)
22 And king Solomon passed all the kings of the earth in riches and wisdom.
23 And all the kings of the earth sought the presence of Solomon, to hear his wisdom, that God had put in his heart.
24 And they brought every man his present, vessels of silver, and vessels of gold, and raiment, harness, and spices, horses, and mules, a rate year by year.
25 And Solomon had four thousand stalls for horses and chariots, and twelve thousand horsemen; whom he bestowed in the chariot cities, and with the king at Jerusalem.
26 And he reigned over all the kings from the river even unto the land of the Philistines, and to the border of Egypt.
27 And the king made silver in Jerusalem as stones, and cedar trees made he as the sycomore trees that are in the low plains in abundance.
28 And they brought unto Solomon horses out of Egypt, and out of all lands.
LESSON INTRODUCTION: Solomon was born in Jerusalem 1000 BC to King David and Bathsheba. He was David sixteenth son. Solomon was a fabulously wealthy and wise king of a united kingdom of Israel who succeeded his father king David. He was one of the most powerful kings of the eastern lands. He is the author of 3000 proverbs and he composed 1005 songs (1 Kings 4:32).
LESSON OUTLINES:
CHARACTER AND HIS ACHIEVEMENTS
LESSONS FROM HIS LIFE
1. CHARACTER AND HIS ACHIEVEMENTS
King Solomon ruled Israel between 970 BC and 930 BC. He wrote Song of Solomon (also called Song of Songs), Proverbs and Ecclesiastes. He asked the Lord for an understanding heart to judge His people that he might discern between good and evil (1Kgs.3:9). Because he did not ask for long life, riches and or the life of his enemies, the Lord gave him "a wise and an understanding heart" (1Kgs. 3:11-12). He built the house of the Lord, the temple, on Mount Moriah (2Chron.3:1). King Solomon was famously known for his wisdom (2Chron.9:22).
He surpassed all of the kings of the earth in riches and honour in his days (1Kgs.3:13). His reign was the most peaceful as he did not fight any war (1Kgs.4:24). Towards the end of his life, he had 700 wives (Princesses) 300 concubines (1Kgs.11:3). He summed up all life had taught him in the last chapter of Ecclesiastes: "…Fear God, and keep his commandments: for this is the whole duty of man" (Eccl.12:13b).
2. LESSONS FROM HIS LIFE
The wisest and the richest man that ever lived was Solomon. God revealed Himself to him physically and talked with him twice. King Solomon took many foreign wives for himself, which God had forbidden him to do, and they turned his heart to other gods, as God had warned Him. So, God tore the kingdom out of the hand of his son (1Kgs. 11:1-12). Here are some crucial lessons to learn from the life of Solomon:
If you need wisdom, ask God for it and He will give it to you – If you believe and do not waver (James 1:5-8).
Do not take things of the world unto yourself, or they may become a snare to you – keep yourself separate from them (1Jn.2:15-17).
Riches and wisdom will not keep you spiritually safe if you insist on disobeying God (Col.3:5-6).
We should not just know what is right, but do what is right (James 4:17).
King Solomon had it all and failed in so many ways but he found restoration in the arms of God. He then shared his own journey and tried to encourage others to avoid such traps in the books that he authored. His sin led to the kingdom being divided in the hands of his son.
CONCLUSION: Solomon was human just like all of us and everyone makes mistakes. Thankfully, if we genuinely repent, we serve a redeeming God whose grace and love are unmatched.
QUESTIONS:
What are the achievements of King Solomon?
Mention five (5) lessons from the life of King Solomon.
FURTHER READING:
Monday: 1 Chronicles 22:9 (KJV)
Behold, a son shall be born to thee, who shall be a man of rest; and I will give him rest from all his enemies round about: for his name shall be Solomon, and I will give peace and quietness unto Israel in his days.
Tuesday: 1 Chronicles 22:10 (KJV)
He shall build an house for my name; and he shall be my son, and I will be his father; and I will establish the throne of his kingdom over Israel for ever.
Wednesday: 1 Kings 4:32-33 (KJV)
32 And he spake three thousand proverbs: and his songs were a thousand and five. 33 And he spake of trees, from the cedar tree that is in Lebanon even unto the hyssop that springeth out of the wall: he spake also of beasts, and of fowl, and of creeping things, and of fishes.
Thursday: Isaiah 54:5 (KJV)
For thy Maker is thine husband; the Lord of hosts is his name; and thy Redeemer the Holy One of Israel; The God of the whole earth shall he be called.
Friday: Psalm 16:7 (KJV)
I will bless the Lord, who hath given me counsel: my reins also instruct me in the night seasons.
Saturday: Psalm 32:8 (KJV)
I will instruct thee and teach thee in the way which thou shalt go: I will guide thee with mine eye.
Sunday: Ecclesiastes 2:26 (KJV)
For God giveth to a man that is good in his sight wisdom, and knowledge, and joy: but to the sinner he giveth travail, to gather and to heap up, that he may give to him that is good before God. This also is vanity and vexation of spirit.
ASSIGNMENT: Identify any five (5) possible problems of wealth.
RCCG Sunday School manual is used in Sunday School Classes in the RCCG. 
The RCCG Sunday school manual is written by Pastor E.A. Adeboye and is available online for easy access. See the previous RCCG Sunday school Manual for 2022 here