RCCG Sunday School Student's Manual 21st August 2022 – Lesson 51.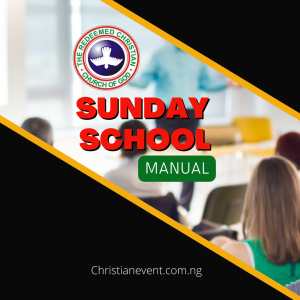 TOPIC: Eternal Rewards
MEMORY VERSE: 2 Corinthians 4:17 (KJV)
"For our light affliction, which is but for a moment, worketh for us a far more exceeding and eternal weight of glory;"
BIBLE PASSAGE: 1 Corinthians 9:16-27 (KJV)
16 For though I preach the gospel, I have nothing to glory of: for necessity is laid upon me; yea, woe is unto me, if I preach not the gospel!
17 For if I do this thing willingly, I have a reward: but if against my will, a dispensation of the gospel is committed unto me.
18 What is my reward then? Verily that, when I preach the gospel, I may make the gospel of Christ without charge, that I abuse not my power in the gospel.
19 For though I be free from all men, yet have I made myself servant unto all, that I might gain the more.
20 And unto the Jews I became as a Jew, that I might gain the Jews; to them that are under the law, as under the law, that I might gain them that are under the law;
21 To them that are without law, as without law, (being not without law to God, but under the law to Christ,) that I might gain them that are without law.
22 To the weak became I as weak, that I might gain the weak: I am made all things to all men, that I might by all means save some.
23 And this I do for the gospel's sake, that I might be partaker thereof with you.
24 Know ye not that they which run in a race run all, but one receiveth the prize? So run, that ye may obtain.
25 And every man that striveth for the mastery is temperate in all things. Now they do it to obtain a corruptible crown; but we an incorruptible.
26 I therefore so run, not as uncertainly; so fight I, not as one that beateth the air:
27 But I keep under my body, and bring it into subjection: lest that by any means, when I have preached to others, I myself should be a castaway.
LESSON INTRODUCTION: It is generally believed that the rewards to be given at the judgment seat of Christ will consist of crowns and other glorious things. 2Corinthians 4:17 speaks of the momentary light affliction, which is descriptive of this world of sorrow, pain, tears and problems. However, the moment that we cross to the other side, this moment of affliction will be exchanged for an "exceeding and eternal weight of glory". The believer falls asleep in Christ (John 11:11), suddenly awakes in the Lord's presence and the glory begins (Phil.1:23).
LESSON OUTLINES:
WHAT GLORIES ARE BELIEVERS TO EXPECT?
WHAT CROWNS MAY BELIEVERS WIN?
1. WHAT GLORIES ARE BELIEVERS TO EXPECT?
Every born-again child of God, living a holy life and walking in the Spirit of God should expect:
To be with Christ on the last day (Jn.14:3). Everyone is happy to be in the presence of the King of kings.
To behold the glory of Christ (Jn.17:24). We shall not only behold His face but also His glory. The disciples saw a glimpse of this glory on the mount of Transfiguration. We shall see it in full when we get to Heaven.
To be glorified with Christ (Rom.8:17-18). We are not just to behold His glory but we are to be glorified too. We do not know what this actually means but it is surely going to be marvellously wonderful.
To reign with Christ (Rom.8:17-18). We shall reign with the King of kings. In Matthew 25:20-23, in the parable of the talents, the faithful ones were made rulers over many things. That is a challenge to us today.
To inherit all things (Rev.21:7). Not some things but all things.
2. WHAT CROWNS MAY BELIEVERS WIN?
It is possible for believers to win several crowns. For example there is:
Crowns for faithful 'runners' (1Cor.9:24-25). It is an incorruptible crown. An eternal one. It is for those who patiently run the race to Heaven and are temperate in all things (1Cor.9:25, Heb. 12:1).
Crowns for soul winners (1Thess.2:19). It is called the crown of rejoicing. Perhaps, each convert will be a jewel, a star on that crown.
Crowns for anticipators, that is, those who are expecting the Lord's return (2Tim.4:8). This is called the crown of righteousness. Everyone ought to win this crown. Each one of us ought to be watching for the coming of our Lord Jesus Christ.
Crowns for the faithful ones (James 1:12). This is called the crown of life. There seems to be three conditions for winning this crown:
i. Enduring temptation and overcoming evil,
ii. Loving the Lord,
iii. Being faithful unto death, enduring to the end, even if it means martyrdom (Rev.2:10).
Crowns for true Pastors (1Pet.5:4). This is called the crown of glory. This is the crown for the elders, the under shepherds, Pastors, Missionaries and Teachers who perform their duties so well that the Great Shepherd will say "Well done" to them.
Crowns of gold for all the redeemed (Rev.4:4). It is not only earthly kings and queens that have crowns. Redeemed men, born-again, holy living Christians shall have crowns too.
CONCLUSION: Be faithful, even unto death.
QUESTIONS:
Mention some crowns that a believer could win.
What are the conditions for winning the crown of life?
FURTHER READING:
Monday: John 8:51 (KJV)
51 Verily, verily, I say unto you, If a man keep my saying, he shall never see death.
Tuesday: 1 Corinthians 15:55 (KJV)
55 O death, where is thy sting? O grave, where is thy victory?
Wednesday: 2 Chronicles 15:7 (KJV)
7 Be ye strong therefore, and let not your hands be weak: for your work shall be rewarded.
Thursday: Matthew 6:1 (KJV)
1 Take heed that ye do not your alms before men, to be seen of them: otherwise ye have no reward of your Father which is in heaven.
Friday: Matthew 19:29 (KJV)
29 And every one that hath forsaken houses, or brethren, or sisters, or father, or mother, or wife, or children, or lands, for my name's sake, shall receive an hundredfold, and shall inherit everlasting life.
Saturday: John 5:24 (KJV)
24 Verily, verily, I say unto you, He that heareth my word, and believeth on him that sent me, hath everlasting life, and shall not come into condemnation; but is passed from death unto life.
Sunday: Joshua 1:6-8 (KJV)
6 Be strong and of a good courage: for unto this people shalt thou divide for an inheritance the land, which I sware unto their fathers to give them. 7 Only be thou strong and very courageous, that thou mayest observe to do according to all the law, which Moses my servant commanded thee: turn not from it to the right hand or to the left, that thou mayest prosper withersoever thou goest. 8 This book of the law shall not depart out of thy mouth; but thou shalt meditate therein day and night, that thou mayest observe to do according to all that is written therein: for then thou shalt make thy way prosperous, and then thou shalt have good success.
ASSIGNMENT: Find out five (5) major obstacles that make it difficult for some people to endure affliction.
RCCG Sunday School manual is used in Sunday School Classes in the RCCG. 
The RCCG Sunday school manual is written by Pastor E.A. Adeboye and is available online for easy access. See the previous RCCG Sunday school Manual for 2022 here