RCCG Sunday School Student Manual 31st October 2021 – Lesson 9.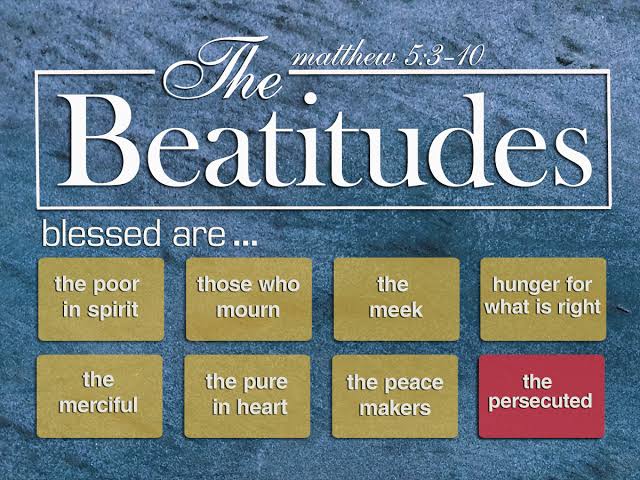 TOPIC — Beatitudes: The Peacemakers And The Persecuted
MEMORY VERSE: 1 Peter 3:14
"But and if ye suffer for righteousness' sake, happy are ye: and be not afraid of their terror, neither be troubled;"
BIBLE PASSAGE: Matthew 5:9-10 (KJV)
9 Blessed are the peacemakers: for they shall be called the children of God.
10 Blessed are they which are persecuted for righteousness' sake: for theirs is the kingdom of heaven.
INTRODUCTION:
Matthew 5:9-10 are parts of Jesus' Sermon on the Mount in which He says, "Blessed are the peacemakers, for they shall be called the children of God. Blessed are they which are persecuted for righteousness's sake: for theirs is the kingdom of heaven". This lesson attempts to explain who the peacemakers and the persecuted are, as well as why Jesus pronounced these peculiar blessings on them?
LESSON OUTLINES
BLESSED ARE THE PEACEMAKERS
BLESSED ARE THE PERSECUTED
1. BLESSED ARE THE PEACEMAKERS
"Blessed are the peacemakers: for they shall be called the children of God" (Matt.5:9) Generally, 'Peacemakers' are those who strive to prevent contention, strife, and war; those who use their influence to reconcile opposing parties, prevent lawsuits and hostilities, in families and neighbourhoods. In the context of the relationship between God and man, those who witness for Christ, share their faith with their friends, and serve others in the name of Christ are the ambassadors for peace (2 Cor.5:18,20).
Those who bring the wonderful message of God's peace to the world are "peacemakers" (Eph.6:15). Jesus calls them the "children of God" Furthermore, the term includes all who make peace between men, whether as individuals or as communities. Those who worthily endeavour to make peace, even if they did not succeed at it are also peacemakers.
Peacemakers shall be called God's children because He is the God of peace (Rom.15:33; 16:20; 2 Cor.13:11); whose supreme purpose is to secure peace (Lk.2:14); and who gave His Son to be born into this world as the Prince of Peace (lsa. 9:6; Eph. 2:14).
The Spirit of God is the Spirit of peace. It is by His Spirit that we are made His children. If we are not peacemakers, we do not have the Spirit of Christ (Rom. 8:14)
2. BLESSED ARE THE PERSECUTED
"Blessed are they which are persecuted for righteousness' sake: for theirs is the kingdom of heaven" (Matt.5:10). To persecute, means literally to pursue, follow after, as one pursues a fleeing enemy. Here it means to vex, or oppress one, on account of his faith.
Persecution is never pleasant but involves suffering and often severe pain (Rom. 8:18; 2Cor.4:9). Some people suffer for doing evil, but that is punishment, not persecution. Some are persecuted for reasons unrelated to righteousness. Jesus was not offering a general blessing to all victims of persecution for any cause. He offered it only to those who were persecuted for actively pursuing the kingdom of righteousness and because of their faith in Jesus Christ (Matt. 5:11; 1 Pet. 2:20).
Christians are not expected to seek or provoke persecution. However, we are to consider it a blessing, if in the honest effort to live righteously, others persecute us (2 Tim. 3:12). It is all evidence that we are the children of God and that He will defend us (2 Cor.4:9). To endure persecution for the sake of righteousness requires uncompromising faithfulness to God despite eve threat and pressure (Rom.8:35-39). Rather than feeling discouraged, dismayed, enraged, or depressed, believers who find themselves persecuted for openly living for Christ and His kingdom have good reason to rejoice and be glad-for their reward in Heaven is great (Matt.5:11-12; Acts 6:8-15). They have evidence that they are Christians and are candidates of Heaven (Acts 7:55-59).
CONCLUSION: The peacemakers and those that endure persecutions for Christ's sake are God's blessed children.
QUESTIONS:
Who are the peacemakers?
Describe who the persecuted are.
FURTHER READINGS:
Monday: 1 Peter 3:8-13 (KJV)
8 Finally, be ye all of one mind, having compassion one of another, love as brethren, be pitiful, be courteous:
9 Not rendering evil for evil, or railing for railing: but contrariwise blessing; knowing that ye are thereunto called, that ye should inherit a blessing.
10 For he that will love life, and see good days, let him refrain his tongue from evil, and his lips that they speak no guile:
11 Let him eschew evil, and do good; let him seek peace, and ensue it.
12 For the eyes of the Lord are over the righteous, and his ears are open unto their prayers: but the face of the Lord is against them that do evil.
13 And who is he that will harm you, if ye be followers of that which is good?
Tuesday: Matthew 5:11-12 (KJV)
11 Blessed are ye, when men shall revile you, and persecute you, and shall say all manner of evil against you falsely, for my sake. 12 Rejoice, and be exceeding glad: for great is your reward in heaven: for so persecuted they the prophets which were before you.
Wednesday: Matthew 5:13-16 (KJV)
13 Ye are the salt of the earth: but if the salt have lost his savour, wherewith shall it be salted? it is thenceforth good for nothing, but to be cast out, and to be trodden under foot of men.
14 Ye are the light of the world. A city that is set on an hill cannot be hid.
15 Neither do men light a candle, and put it under a bushel, but on a candlestick; and it giveth light unto all that are in the house.
16 Let your light so shine before men, that they may see your good works, and glorify your Father which is in heaven.
Thursday: 2 Corinthians 4:7-11 (KJV)
7 But we have this treasure in earthen vessels, that the excellency of the power may be of God, and not of us.
8 We are troubled on every side, yet not distressed; we are perplexed, but not in despair;
9 Persecuted, but not forsaken; cast down, but not destroyed;
10 Always bearing about in the body the dying of the Lord Jesus, that the life also of Jesus might be made manifest in our body.
11 For we which live are always delivered unto death for Jesus' sake, that the life also of Jesus might be made manifest in our mortal flesh.
Friday: 1 Peter 2:13-20 (KJV)
13 Submit yourselves to every ordinance of man for the Lord's sake: whether it be to the king, as supreme;
14 Or unto governors, as unto them that are sent by him for the punishment of evildoers, and for the praise of them that do well.
15 For so is the will of God, that with well doing ye may put to silence the ignorance of foolish men:
16 As free, and not using your liberty for a cloke of maliciousness, but as the servants of God.
17 Honour all men. Love the brotherhood. Fear God. Honour the king.
18 Servants, be subject to your masters with all fear; not only to the good and gentle, but also to the froward.
19 For this is thankworthy, if a man for conscience toward God endure grief, suffering wrongfully.
20 For what glory is it, if, when ye be buffeted for your faults, ye shall take it patiently? but if, when ye do well, and suffer for it, ye take it patiently, this is acceptable with God.
Saturday: 2 Timothy 3:10-15 (KJV)
10 But thou hast fully known my doctrine, manner of life, purpose, faith, longsuffering, charity, patience,
11 Persecutions, afflictions, which came unto me at Antioch, at Iconium, at Lystra; what persecutions I endured: but out of them all the Lord delivered me.
12 Yea, and all that will live godly in Christ Jesus shall suffer persecution.
13 But evil men and seducers shall wax worse and worse, deceiving, and being deceived.
14 But continue thou in the things which thou hast learned and hast been assured of, knowing of whom thou hast learned them;
15 And that from a child thou hast known the holy scriptures, which are able to make thee wise unto salvation through faith which is in Christ Jesus.
Sunday: Acts 5:1-11 (KJV)
1 But a certain man named Ananias, with Sapphira his wife, sold a possession,
2 And kept back part of the price, his wife also being privy to it, and brought a certain part, and laid it at the apostles' feet.
3 But Peter said, Ananias, why hath Satan filled thine heart to lie to the Holy Ghost, and to keep back part of the price of the land?
4 Whiles it remained, was it not thine own? and after it was sold, was it not in thine own power? why hast thou conceived this thing in thine heart? thou hast not lied unto men, but unto God.
5 And Ananias hearing these words fell down, and gave up the ghost: and great fear came on all them that heard these things.
6 And the young men arose, wound him up, and carried him out, and buried him.
7 And it was about the space of three hours after, when his wife, not knowing what was done, came in.
8 And Peter answered unto her, Tell me whether ye sold the land for so much? And she said, Yea, for so much.
9 Then Peter said unto her, How is it that ye have agreed together to tempt the Spirit of the Lord? behold, the feet of them which have buried thy husband are at the door, and shall carry thee out.
10 Then fell she down straightway at his feet, and yielded up the ghost: and the young men came in, and found her dead, and, carrying her forth, buried her by her husband.
11 And great fear came upon all the church, and upon as many as heard these things.
ASSIGNMENT:
State five (5) distinctions between punishment and persecution.