You are on to the livestream for the Redeemed Christian church of God – 70th annual Holy Ghost convention. This event comes with a number of sessions/services packaged just for you and your loved ones. You can follow all the sessions via this platform. Kindly find details below as you endeavour to be a part of the service.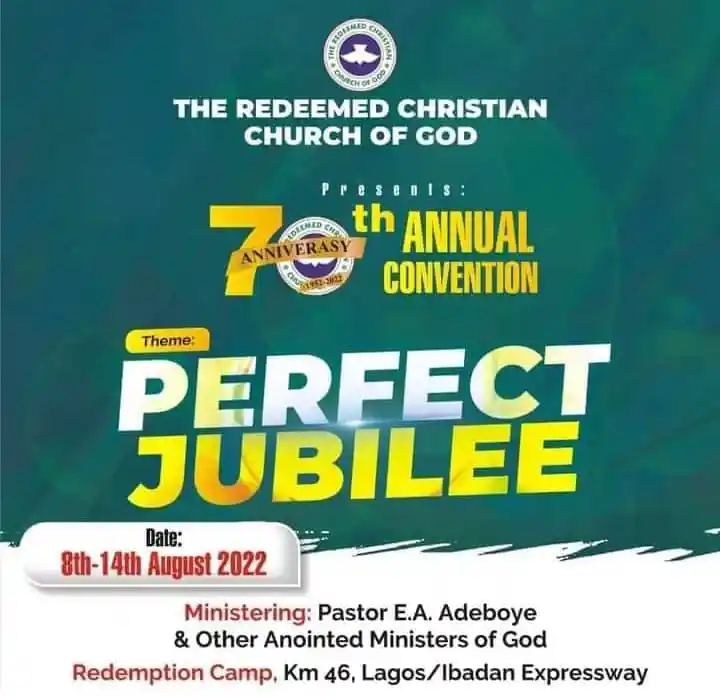 The Redeemed Christian Church of God (RCCG) holds her 70th annual convention with pastor E.A. Adeboye. The Redeemed Christian Church of God (RCCG) will be Seventy (70) Years Old, and this convention is a divine platform for the liberation of God's children, with manifest signs of jubilee.
This life transforming event is scheduled to hold daily with sessions in the morning, afternoon and evening, from Monday 8th to Sunday 14th August 2022 at the Redemption camp ground, Mowe, Ogun State. The convention will feature moments of divine encounters and Holy Ghost interventions with Pastor Enoch Adejare Adeboye.
Click play to watch the live All Session
 You are watching RCCG 70th Annual Convention 2022.
YOU CAN FIND MORE DETAILS ABOUT THE EVENT AT CHRISTIAN EVENTS AS FOLLOWS: