RCCG Day 50 Fasting Prayer Points as Released by The Redeemed Christian Church of God Directorate of Prayer.  50 Days Fasting & Prayer Guide for RCCG 2023 Fasting and Prayer is here.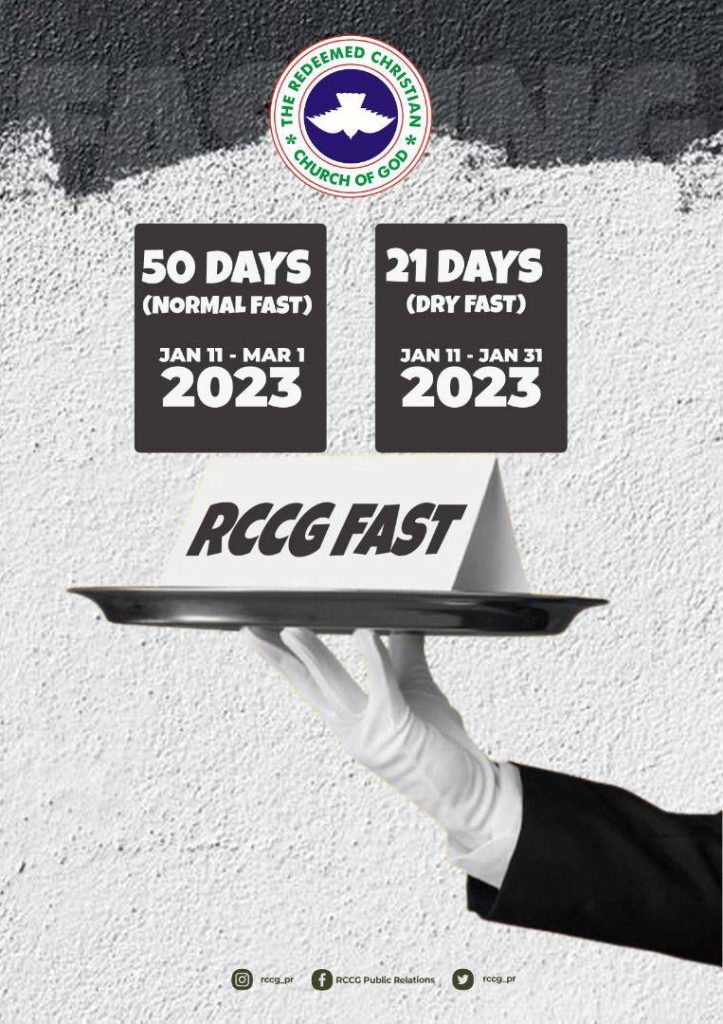 ⇒Click here to see RCCG 50 Days Prayer Points.
Find out more about the RCCG Annual Fasting and Prayer Here
RCCG 50 DAYS FASTING AND PRAYER GUIDE
TOPIC: DEALING WITH THE EFFECTS OF IDOLATRY IN THE LAND AND IN OUR LIVES
DAY 50 – Wednesday, March 1st, 2023
Bible Text: Exodus 20:3-6, Deuteronomy 4:15-19, Deuteronomy 13:6-11 
INTRODUCTION:
idolatry is forbidden by God, idolatry is the worship of other gods and graven images, instead of Jehovah God our creator. It is the act of exalting anything or man above the sovereignty of the Almighty God.
⇒ Click here to watch the Fasting and Prayer Evening service @ 5:00 pm
1. Thank God for your life and Praise Him
2. Pray earnestly for people to be willing to repent. Zec 12:10
3. Bring quality repentance before God; confess all sins of idolatry in your life family and nation in the name of Jesus. 2Chr 7:14
4. Father I renounce every evil covenant entered into with the kingdom of darkness as a result of the spirit of idolatry in the name of Jesus.
5. I destroy all idols, charms, amulets, candles, talisman, including graven images in my possession in the name of Jesus. Jer 10:11-15
6. I destroy all shrines, satanic and evil altars in my family in the name of Jesus. Jud 6:25
7. Father, I bring a lamentation before you on behalf of my father's house and nation for all the sins of idolatry we have committed. Please have mercy on us according to your word in 2Chr 7:14 heal us and our lands in the name of Jesus. Lam 5:1-21
8. Oh Lord, hear; oh Lord, forgive; oh Lord, hearken and do; defer not for thine own sake; oh my God, for thy city and the people are called by thy name. Dan 9:19
9. Father, you are the God of all nations, arise in this nation (put your country) and let the idols of the land be scattered, in the name of Jesus. Isa 19:1
10.Father, arise and cut off all the graven images, standing images, witchcraft, soothsayers, sorcerers from my family and nation in the name of Jesus. Mic 5:10-14
11. Father, silence every voice of the idols of our land crying for vengeance and destruction in the name of Jesus. Heb 12:24
12. Oh God, pluck out evil grooves, evil places, and shrines of our land in the name of Jesus. Ezekiel 6:6
13. I pull down all the evil strongholds of idols in my life in the name of Jesus. 2Cor 10:4
14. Father, by the authority and dominion you have given to me, I root out from my life whatever the enemy has sown into my life and my nation as a result of idolatry in the name of Jesus. Jer 1:10
15. Father, send down your earthquake to shake and excavate every adulterous foundation out of my life in the name of Jesus. Act 16:26
⇒ Click here to find out more about the RCCG Annual Fasting and Prayer