Power Must Change Hands (PMCH) is a special service held once a month at MFM International Headquarters known as the Prayer City. The programme is held every First Saturday of each month from 7 AM to 12 PM WAT. Kindly use the details below to join the service.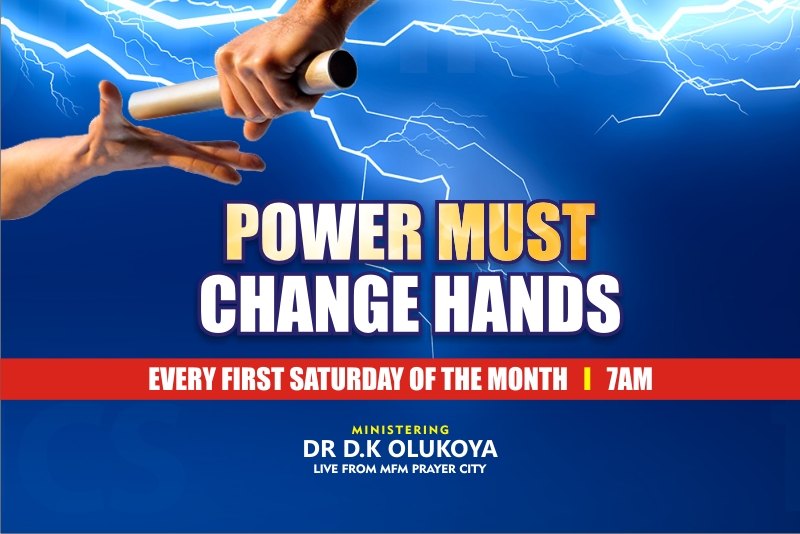 PMCH is streaming  LIVE on satellite Tv and over the internet for people worldwide. Furthermore, below is the video to join the live stream for the Power Must Change Hands service.
Click the PLAY button below to watch live.
You are watching MFM Power Must Change Hands with Dr Olukoya
PMCH Programme Schedule
Time: Kindly note that the time zone is GMT+1. The order of service for the PMCH is as follows;
7:00 am – 7:05 am Opening Prayers
7:05 am – 7:20 am Praise Worship
7:20 am – 7:35 am Testimonies
7:35 am – 7:45 am Hour of Personal Intercession
7:45 am – 8:45 am Ministration
8:45 am – 9:00 am Offering and Closing
Theme For This Month PMCH: ANNUAL WATER OF FIRE
Scripture Reading: Psalms 17; 27; 91
Confession: Psalm 91
WHAT IS THE POWER MUST CHANGE HANDS PROGRAMME ALL ABOUT?
Power Must Change Hands aka PMCH is a monthly programme convened by the Mountain of Fire and Miracle ministries. It is a prayer and deliverance service that seeks to address life-challenging issues and demonic oppressions in all areas of life. The programme is open to the attendance of worshippers from all walks of life. However, participants are expected to come in fast, and with their personal prayer points.
During the service, various sessions of prayer will be made to pray the MFM PMCH Prayer points for the Month. Click the link below to view and pray the Prayer points.
The mountain of fire & miracle ministries aka MFM ministries is a Pentecostal denomination with churches in several countries of the world. The ministry is presided by Dr Daniel Kolawole Olukoya (DKO). Her international headquarters known as the Prayer city is located in Lagos, Nigeria, within which is located a 100,000 seating capacity auditorium. Read More.