MFM GREAT PHYSICIAN HOUR  AUGUST 2021 WITH DR D.K OLUKOYA.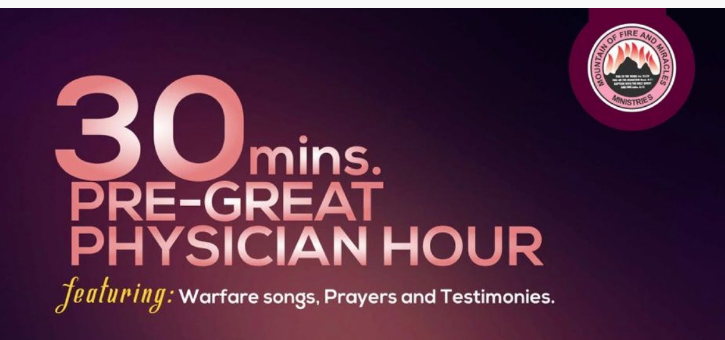 The Mountain of Fire and Miracle Ministries (MFM) Great Physician Hour is a special programme packaged together for people seeking the touch of God in any area of their lives, people who need divine healing, and Those who need deliverance but can't access MFM prayer ground due to the lockdown.
MFM GREAT PHYSICIAN EVENT SCHEDULE
DATE: This programme holds every Saturday of the month from 10:00 pm (WAT)
Time: The progrmme holds every Saturday evening by 10:00pm – 10:45pm.
Press play to watch the live event below.
YOU ARE WATCHING MFM THE GREAT PHYSICIAN HOUR LIVE BROADCAST
Read MFM Daily devotional here
WATCH THE AUGUST 2021 POWER MUST CHANGE HAND SERVICE