Mark 1:11-13 KJV
And there came a voice from heaven, saying, Thou art my beloved Son, in whom I am well pleased. And immediately the spirit driveth him into the wilderness. And he was there in the wilderness forty days, tempted of Satan; and was with the wild beasts; and the angels ministered unto him.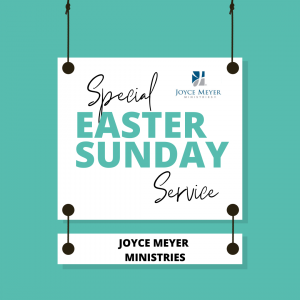 The entire Joyce Meyer Ministries Family rejoice and praise the name of the savior……This is the day the Lord has made, we therefore rejoice in celebration of the death and resurrection of Christ.
To join Joyce Meyer Ministries Easter Sunday Service, please click the play button below.
(Video available here)