Luke 24:2-3 KJV
And they found the stone rolled away from the sepulchre. And they entered in, and found not the body of the Lord Jesus.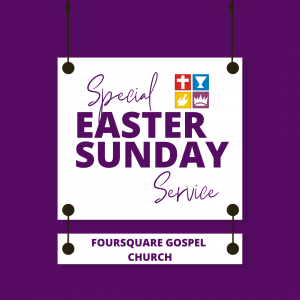 The PASSION of Jesus was so very much intense that it saved the world and Easter teaches us to accept the love of God through Jesus Christ. Come celebrate his death and ressurrction at the FOUR SQUARE GOSPEL CHURCH.
To join Reverend Sam Aboyeji April 2022 Easter Sunday Service, please click the play button below.
You are Watching Easter Service from The Foursquare Gospel Church
Remember you can always get information on a variety of christian events happening around you and globally on
CHRISTAINEVENTS.COM.NG