Mark 8:31 KJV
And he began to teach them, that the Son of man must suffer many things, and be rejected of the elders, and of the chief priests, and scribes, and be killed, and after three days rise again.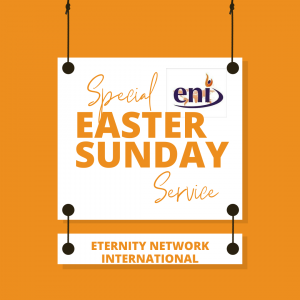 The  ETERNITY NETWORK INTERNATIONAL (ENI) holds her Easter Sunday service on 16th April 2022 with APOSTLE JOSHUA SELMAN. It is another moment of rejoicing as we celebrate the death and resurrection of Jesus, the saviour of the whole world.
To join Eternity Network International Easter Sunday Service, please click the play button below.