DUNAMIS ANNUAL 21 DAYS PRAYER AND FASTING JANUARY 2022 LIVE ONLINE WITH PASTOR PAUL ENENCHE
The Dunamis International Gospel Centre 21 days fasting and prayer 2022 commences on Monday 10th January 2022, to Sunday 30th January 2022. This is a moment to lay before God In prayers, your heart desires and expectations. Find prayer resources and details of yhe event below.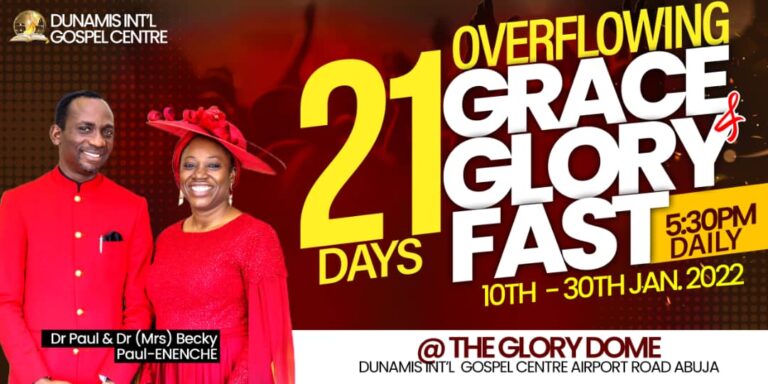 DUNAMIS 2022 FASTING AND PRAYER GUIDELINES – 21 DAY OVERFLOWING GRACE AND GLORY FAST 2022 (DAY NINE)
Father, thank You for Your goodness, mercies and faithfulness to us in the year 2021.
Thank You for every testimony, blessing and victory of that year. To You alone be all the Glory, Lord in Jesus Name – Psalm 103:1-5.
Father, thank You for the successful arrival of the year 2022. Thank You for the promises and load of Blessings deployed for 2022. We decree that none of it shall fail to deliver, Lord in Jesus Name – Ps. 68:19; Joshua 21:45.
Father, we take authority over every enemy agenda or opposition to Your purpose for Your people in Dunamis this year – We decree the collapse and total demolition of every such plot, plan, orchestration or opposition of the enemy in 2022, in Jesus Name – Isa. 14:27; Isa. 54:17.
Father, we ask that Your Blessing on Your children in Dunamis in 2022 will lead to the explosion of fruitfulness and multiplication of Your flock until the whole earth is overspread and blanketed with influence, impact and multitudes of saints, in Jesus' Name – Gen. 9:19; Gen. 1:28.
Father, we ask that You will take Your place in Nigeria and purge out all forms of evil at all levels – evil leadership, evil activity of terrorism, banditry, kidnapping, armed robbery, economic failure, and others – in the Name of Jesus Christ – Ps. 22:27, 28.
Father, we ask that You will anoint afresh Your servant, the under-shepherd over the Commission, Dunamis, for a full and complete delivery of Your package for Your people in 2022. Anoint afresh, the pastors and ministers in the Commission for full alignment with Your purpose for us in this season, in Jesus' Name – Psalm 92:10; Eph. 6:18-20.
Father, we ask that You will shield the senior pastor, the pastors, the ministers, the workforce
and the members of the Commission from every evil/wicked agenda of the enemy in 2022, Lord in Jesus Name – Eph. 6:18-20; 2Thess. 3:1-2.
Thank You Lord because we have the confidence that if we pray in accordance with Your Will, You will hear us. Thank You for hearing and answering Lord. To You be all the praise, Lord in Jesus Name – 1John 5:14-15
DUNAMIS 21-DAYS  FASTING AND PRAYER JANUARY 2022 PROGRAMME
Date: Monday 10th – Sunday 30th January 2022.
Time: 5:30pm daily.
VENUE: GLORY DOME, THE DUNAMIS INT'L. GOSPEL CENTRE AIRPORT ROAD, ABUJA.
To join the live event, kindly click the play button below.
You're watching Dunamis 2022 Fasting and prayer.
Remember you can always get information on a variety of Christian events happening around you on this website Christianevents.com.ng