RCCG NOVEMBER 2020 FASTING & PRAYER  POINTS PDF DOWNLOAD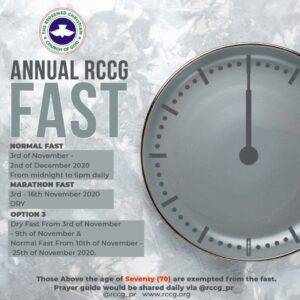 The ongoing Prayer and Fasting Prayer points PDF for The Redeemed Christian Church of God is available.
This is the yearly end of the year prayer and fasting for The Redeem Christian Church of God ( RCCG). It lasts for 30 days from the first week of November to the first week of December.This Year prayer and fasting is dedicated to the peace ans growth of the nation. The Fasting and Prayer takes three dimensions which is available to the church. Any of the dimensions that is suitable to you. The prayer points of each day can be found below.
Normal Fast – November 3 – December 2nd 2020 – from midnight to 6pm daily
Marathon Fast – 3rd – 16th November 2020 DRY
Dry Fast from 3rd to 9th of November and Normal Fast from 10th to 25th of November 2020
Please note that members who are above the age of 70 are exempted from the fast.
Click here to download 30 Days RCCG November 2020 Fasting and Prayer Points
Our daily declaration during the period of fasting and prayer.
1. Nigeria; you will arise and shine again, for thy light is come.
2. All Prophesies of glory about Nigeria shall come to fulfilment in Jesus name.
3. I will eat the good of the land of Nigeria in Jesus name.
4. When the glory of Nigeria shall appear I and my family shall not disappear.
5. I thank you father for your good plan for Nigeria and answer to our prayers.