Luke 24:6-7 KJV
He is not here, but is risen: remember how he spake unto you when he was yet in Galilee, Saying, The Son of man must be delivered into the hands of sinful men, and be crucified, and the third day rise again.)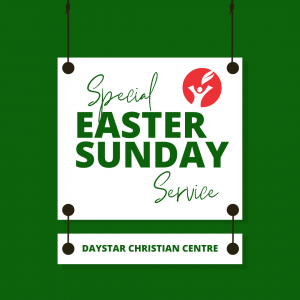 Worship the KING OF KINGS, Come fill your heart with His joy and celebration @ DAYSTAR CHRISTIAN CENTRE with PASTOR SAM ADEYEMI This Easter.
To join DAYSTAR  Easter Sunday Service, please press the play button below.
WE WISH YOU A HAPPY EASTER CELEBRATION  (From all of us at Christianevents.com.ng)
Click Here to Watch Other Churches  Easter Service Live Online
Remember you can always get information on a variety of Christian events happening around you and globally on CHRISTAINEVENTS.COM.NG