THE CITIZENS OF LIGHT CHURCH (CLC) SPECIAL SERVICE  DECEMBER 2021 LIVE STREAM WITH PASTOR MUYIWA AREO
You are on to the live stream for Citizens of light church special Sunday service. Please find details below.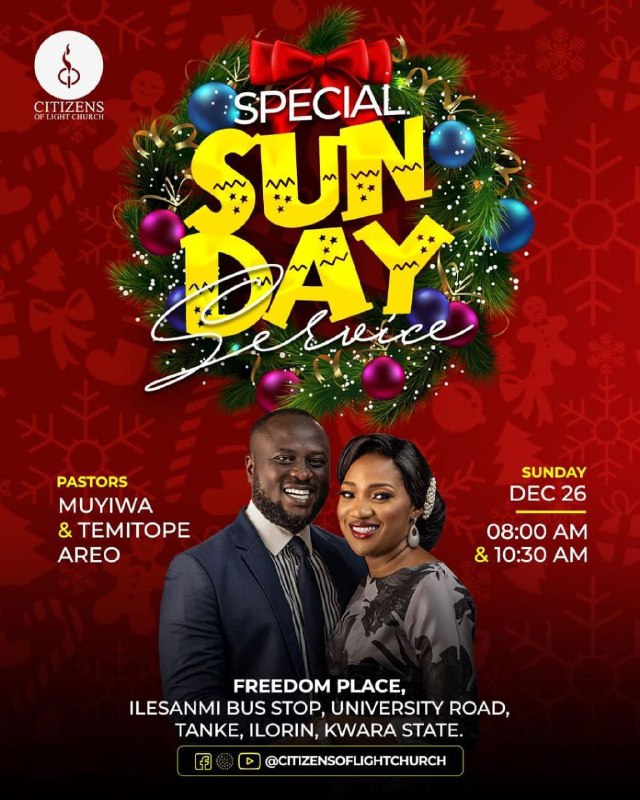 The entire FREEDOM PLACE Family rejoice and praise the name of the savior……Join us at this special Sunday service for December 26th 2021, as we celebrate in the spirit of Christmas.
TIME: 8:00 AM & 10:30AM
DATE: DECEMBER 26TH 2021
To join CLC 2021 Special Sunday Service, please click the play button below.
You are Watching Special Sunday Service from the Citizens of Light Church (CLC)
WE WISH YOU A MERRY CHRISTMAS AND A PROSPEROUS NEW YEAR 2022 (From all of us at Christianevents.com.ng)
Remember you can always get information on a variety of christian events happening around you and globally on
CHRISTAINEVENTS.COM.NG