Watch Agape Christian ministries 12 Days of Fasting & Prayer – Destiny 2021 Live Broadcast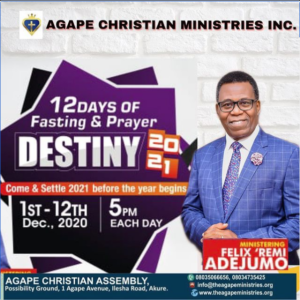 We bring you the live stream of the day 3 of the ongoing 1 Days Fasting and prayer programme – Destiny 2021 by the Agape Cristian ministries.
The 12 days of fasting and prayer  – Destiny 2021 – is a special programme packaged for each month in the forthcoming year. Each day of the 12 days represents its corresponding month in the new year.  Members are expected to fast and congregate in the evening to pray and receive prophetic blessings and themes of the months.
Worshippers all over the world who desire to be part of the ongoing spiritual exercise online, please click on the play button below to do so.
You are watching Agape Christian Ministries Destiny 2021 Day 1 Live stream with Bishop and Pastor Funke Adejumo.
Date: The Agape Destiny 2021 starts on Tuesday 1st – 12th December 2020