Read Rhapsody of Realities for today here. Pastor Chris Oyakhilome writes powerfully and as led by the Spirit for your upliftment daily. Read the Rhapsody of Realities daily devotional to renew your mind and develop the Christ-like nature. Doing what is written will empower you to keep going Upwards and Forward only.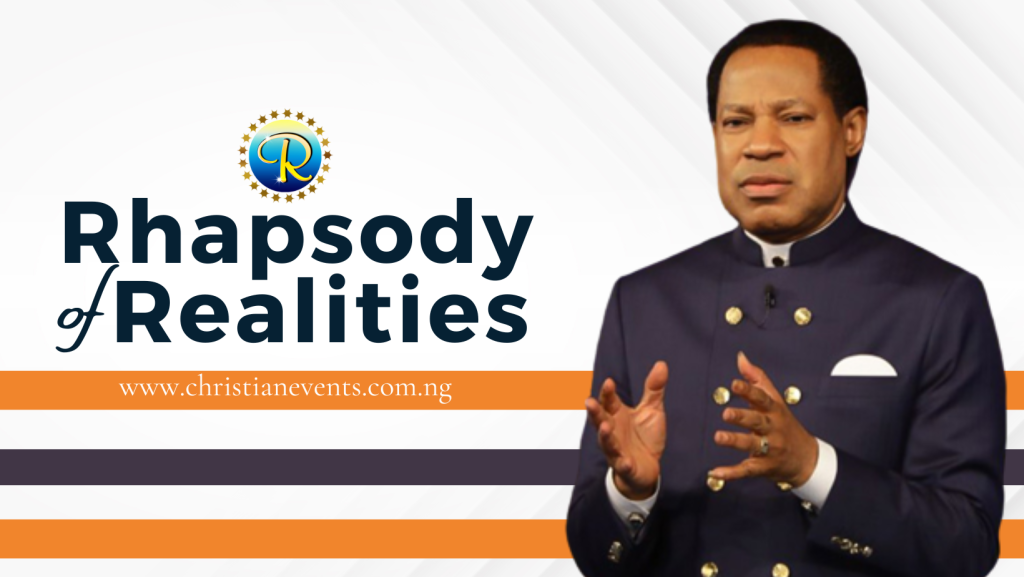 Today's Scripture Reference: Romans 1:16

For I am not ashamed of the gospel of Christ: for it is the power of God unto salvation to everyone that believeth; to the Jew first, and also to the Greek
When you believed in Jesus Christ, you became a Christian and started living out your understanding of Christianity. Your life became a daily expression of your idea or perception of Christianity. Consciously or unconsciously, you became a reflection of your "gospel."
"My gospel?" you may be wondering. Yes! Every one of us has a "gospel." Your gospel is your perception of Christ: who He is and what He came to do. You can't live above your revelation of the Gospel. Whatever you believe about Jesus will affect your speech, thinking process, and outlook on life. You'll see everything through your "Gospel screen," as it were.
This is why it's important to have an accurate knowledge of the Gospel of Christ. What's your understanding of the Gospel? What's your opinion of Christ? Who is He, and what do you believe about Him?
One of the things I did for myself in my early years was to ask myself, "What do you really believe about Jesus?" Using the Word of God, I began to probe my heart to find out what I truly believed about Jesus, and I wrote my answers in a notebook.
There're things you need to address for yourself as a Christian because you can only give to others what you have. You may preach the Gospel to people, but have you preached it to "you"? Do you have personal convictions about it?
Paul said, "For I am not ashamed of the gospel of Christ: for it is the power of God unto salvation to every one that believeth; to the Jew first, and also to the Greek"(Romans 1:16). Have you come to that conclusion about the Gospel? If you truly believe and understand the Gospel, you'll preach it with fervour and urgency. You won't spare anything to ensure it permeates your community, city, country, and every man's world. Let your convictions of Christ drive you.
PRAYER:
Dear Father, thank you for the privilege of taking the same message the apostles preached to my world. I have a clearer understanding of the Gospel, convinced that it's the only hope and power there is for the salvation of men. I proclaim it with boldness today, to the praise and glory of your Name. Amen.
FURTHER STUDY
1 Corinthians 1:17: For Christ sent me not to baptize, but to preach the gospel: not with wisdom of words, lest the cross of Christ should be made of none effect.

1 Corinthians 9:16: For though I preach the gospel, I have nothing to glory of: for necessity is laid upon me; yea, woe is unto me, if I preach not the gospel!

Romans 2:16: In the day when God shall judge the secrets of men by Jesus Christ according to my gospel.
1-YEAR BIBLE READING PLAN:
John 16:17-33; 1 Chronicles 7-8
2-YEAR BIBLE READING PLAN:
Mark 14:32-42; Numbers 35
Click here to download the Rhapsody of Realities PDF For June 2023.
Rhapsody of Realities is a globally recognized devotional written by Pastor Chris Oyakhilome, who is the Founder of Christ Embassy International Also Known as Love World Incorporated or Believers' Loveworld.
Christ Embassy Official Website: https://christembassy.org/
Watch Pastor Chris live online here
You May Also Check Out: