Engage these Daily Prayer and Scriptures for today. Take to God all that you desire in prayers, while you watch restfully as he steps into situations to bring out beauty and colour in your live. Today, as you commune with God, know that God has settled all that concerns you, Just believe and pray with faith in your heart. Remain blessed in Jesus name, Amen.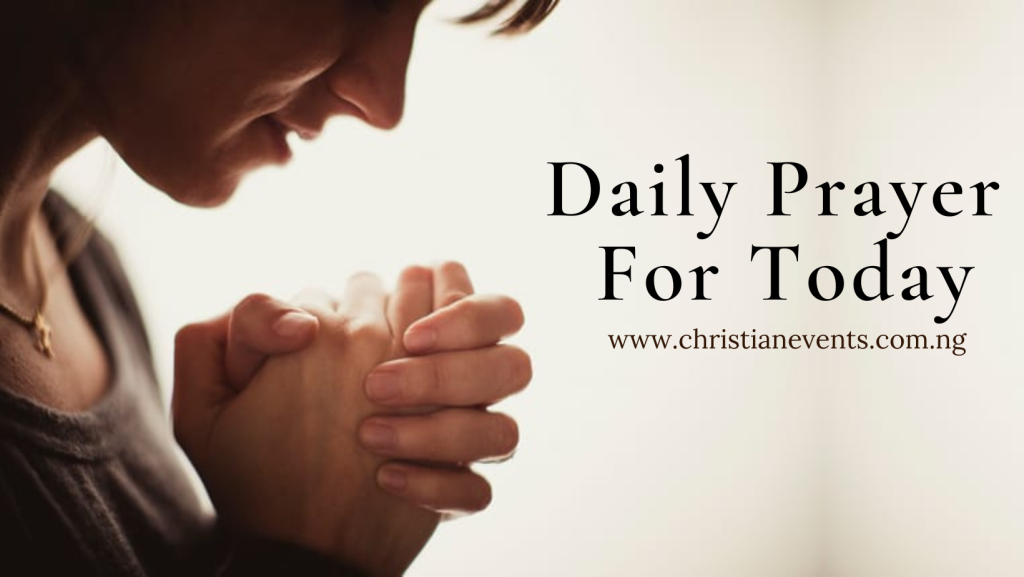 Today's Prayer is Authored by: Tiffany Thibault
"The Lord bless you and keep you; the Lord make His face to shine upon you and be gracious to you; the Lord lift up His countenance upon you and give you peace." Number 6:24-26
These amazing words, found in the book of Numbers, were given by God to Aaron to speak blessing over the people of Israel. Thousands of years later, this blessing is still spoken to church congregations around the world. These words are an amazing reminder to us of the new things God wants to do in our lives each day and in every new season of our lives.
The Lord bless you and keep you. The Lord alone can truly bless us and keep us safe. He is the one who blesses us with health, finances, and peace. He also blesses us as he keeps us, holds us, and comforts us in our times of despair and sorrow.
The Lord make his face to shine upon you. The Lord is looking at you. He sees you. He will show His favor towards you as he fills your life with peace and blessings. Just as the warmth of the sun's rays shines on your face, flooding you with warmth, the Lord shines his face on you to warm you with his love. We are forever changed by his light.
And be gracious to you. This amazing phrase tells us that God is forgiving, merciful, and compassionate. Our sins should put distance between us and God, but through the death and resurrection of Jesus our sins have been forgiven, and we draw close in fellowship to God! God sees you right where you are. He forgives you. He has compassion for you and the heartbreaking things you are walking through today.
The Lord lift up His countenance upon you. These powerful words tell us God is near enough that you can see Him and His hand at work in your life. He isn't stressed about any of the situations you face. He is sovereign. He is in control. He has a good plan to get you through it.
And give you peace. Perfect peace will flood your heart, your mind, and your day as you embrace the blessings and favor of the Lord. This is perfect peace. This peace allows you to overcome all obstacles in your life. This peace is a gift given to you by your Heavenly Father!
So, as you go into this day, week, or new season, cling to the Lord. He promises to be with you, bless you, keep (protect) you, and give you favor. He understands your pain. He sees your success. He holds your life in His very capable hands. Trust Him. Turn to Him. Claim these words of promise over every one of your situations. He is the Lord and He will show up and bless your life as much as you allow Him to.
Let's pray:
Dear Lord,
Thank you that you are my Lord. Today, Lord, open my eyes to the ways you are blessing and keeping me. Shine your face upon me and be gracious to me. Lift up your countenance upon me and bring me peace Lord. May my life be a reflection to those around me of the power that your presence has on my life and my situations. Give me the boldness to share the hope I have in you with those around me.
In your name, I pray, Amen.
This Is the Assurance of Answers to Your Prayers – Matthew 7:7-11
Ask, and it will be given to you; seek, and you will find; knock, and it will be opened to you. For everyone who asks receives, and the one who seeks finds, and to the one who knocks it will be opened.

Or which one of you, if his son asks him for bread, will give him a stone? Or if he asks for a fish, will give him a serpent? If you then, who are evil, know how to give good gifts to your children, how much more will YOUR FATHER WHO IS IN HEAVEN GIVE GOOD THINGS TO THOSE WHO ASK HIM!
Please pray with faith in your heart and remember to lead someone to pray with these prayer points!
Click here to See More Prayers
Prayers for today is written by Believers from "ibelieve", a daily life audio podcast. Want to experience life-changing spiritual growth, then make use of these daily prayers. Read more.